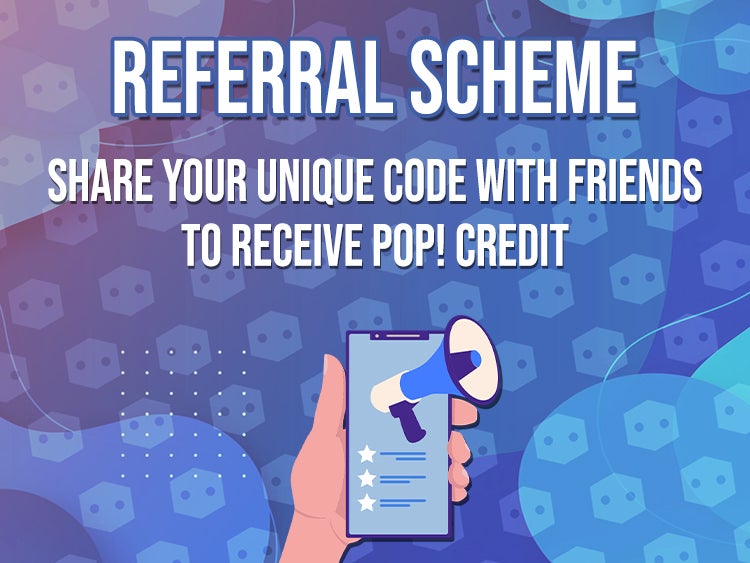 Welcome
Welcome to the Referral Scheme
Login
Learn about your referrals scheme
In 3 simple steps
1. Get your code

Sign in and get your unique referral code.

2. Send to a friend

Introduce your friends to Pop In A Box by sharing your unique code with them!

3. Enjoy your credit

For every friend referred you will get credit to spend, and your friend will get a discount.
* Account credit will vary depending on your friends purchase, find out more by reading our Referral Scheme FAQs below.
Frequently Asked Questions
Sign into your account and head to your referral page. Click on any of the social media icons to share your unique code with your friends. Once your friends have completed their orders and it has been dispatched, we will send you an e-mail confirming that your 3€ credit is in your account and ready to be spent.
In return, your friend who get's referred and creates the new account will get 10% off their first order. Alternatively, your friend can use your unique referral code when creating your account.
The minimum spend to qualify for the offer is 20€, this does not include the delivery fees and so the original order will need to be over 20€.

At the top of your account section you can see both the number of people you have referred as well as the amount of credit you have earned through the scheme.
Additionally, you will be able to find the same information on your referral page.
The referral credit will arrive in your account 24 hours after the dispatch of your friends order.
Please note that if your friend's order contains one or more items that are on pre-order then credit will be applied following 24 hours of the order being completed.
When you are awarded credit, you will receive an email that will advise you how much credit you have earned.
All rewarded credit that you receive will expire after 12 months.